Eko Halı which took the first step for children by producing colorful, entertaining and reliable carpets for children broadened its EKO KIDS collection with Disney patent for Turkey which it has been holding for more than 15 years.
It offers the EKO KIDS collection which has colorful, creative and broad diversity to the consumers both in the domestic market and in the foreign market with natural and reliable products.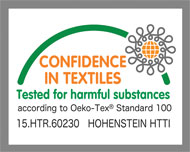 ALL OF OUR EKO KIDS CARPETS ARE CERTIFIED WITH CERTIFICATE OF CONFIDENCE IN TEXTILES.